---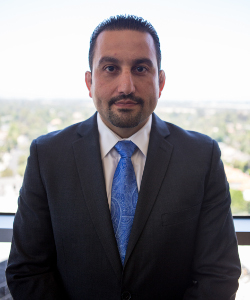 Arvand Naderi
Mr. Naderi was raised in the valley and attended high school and college in the valley. He went to law school in San Diego and returned to Los Angeles when he was done with his studies.
Mr. Naderi is dedicated to aggressive personal injury representation. His practice began as a criminal defense attorney. Over the years, he has gained and has achieved a stellar reputation amongst his peers, and opposing attorneys. Mr. Naderi applies the effective cross-examination skills and trial experience that he learned as a criminal defense attorney and now applies it to fight for justice on the Plaintiff side . Many personal injury attorneys lack the trial experience required to effectively take a case to trial. Mr. Naderi is familiar with the rules of evidence and objections needed to appropriately handle a case in a trial. Insurance companies fear attorneys that are willing to go to trial and will generally give higher offers.
Mr. Naderi has tried countless cases in front of a jury and is intimately familiar with the cross-examination of any type of witness or expert. Trial experience is key. The number of trials most civil attorneys have conducted can be counted on 1 hand. This is unfortunate as these attorneys will miss basic objections that should not be missed. Objections that will ultimately affect the outcome of a case.
CONTACT US FOR A CONSULTATION
PRACTICE AREAS
If you or a loved one has been injured, you will want a top rated San Fernando Valley personal injury attorney that understands how to get the maximum compensation you deserve. Our pledge is to be your partner, and provide passionate, yet skillful legal representation needed to win your case. Contact our highly trained personal injury lawyers today for a free case evaluation.