---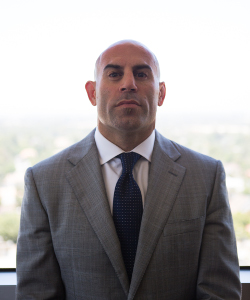 Garret Weinrieb
Garret Weinrieb is graduate of the UCLA School of Law and the University of California, Berkeley, where he graduated first in his class with a 4.0 GPA. Mr. Weinrieb has been a Los Angeles litigation attorney for fourteen years, and has extensive trial experience both fighting for plaintiff's in personal injury and civil cases and defending individuals charged with serious crimes. Over the past decade, Mr. Weinrieb has been repeatedly distinguished as a Rising Star by Southern California Super Lawyers Magazine. It is Mr. Weinrieb's vast experience as both a civil litigator and criminal defense attorney that make him such an effective and vigorous advocate for his personal injury clients.
Among his civil work, Mr. Weinrieb and his high-powered team obtained a multi-billion dollar judgment against Sempra Energy for fraudulently increasing gas prices for citizens throughout the State of California. This multi-billion dollar judgment stands as the single largest class action settlement of its kind in California history. Mr. Weinrieb's firm also spearheaded a lawsuit against British Petroleum resulting in the largest air quality related settlement in California history, Mr. Weinrieb represented Sony Pictures against Marvel Comics over the rights to the world famous Spiderman character, and has successfully sued major international companies such Corona Beer, DHL Shipping and international banks.
Mr. Weinrieb's extensive criminal defense work includes defending individuals charged with everything from simple criminal offenses to homicides and other violent crimes. Several of Mr. Weinrieb's high profile criminal cases, including those involving a Los Angeles firefighter and a prominent university professor, have been featured on every major news network in Los Angeles.
Born and raised in Los Angeles, Mr. Weinrieb is particularly adept at representing and relating to clients from a broad diversity of backgrounds. He is unwavering in his determination to achieve justice for all people, regardless of race, color, economic background or orientation, and he never settles when a more favorable result is achievable.
Mr. Weinrieb represents his personal injury clients with strategic thinking and unwavering determination. Mr. Weinrieb treats every client like a member of his own family and will never stop fighting until he has obtained the absolute best result for each and every client.
CONTACT US FOR A CONSULTATION
PRACTICE AREAS
If you or a loved one has been injured, you will want a top rated San Fernando Valley personal injury attorney that understands how to get the maximum compensation you deserve. Our pledge is to be your partner, and provide passionate, yet skillful legal representation needed to win your case. Contact our highly trained personal injury lawyers today for a free case evaluation.