---
Elder Law Attorneys in San Fernando
Elder abuse is inexcusable crime. If you or a loved one has fallen victim to an abuser, do not allow the perpetrator to get away with it. As elder abuse attorneys serving the San Fernando Valley, CA, we have helped elderly clients who were abused stand up to their abusers and demand compensation for their suffering.
Protecting San Fernando's Seniors From Elder Abuse
In 2014, nearly 14 percent of San Fernando's population was over 60 years old. With the inevitable aging of the baby boomer generation, the number of seniors is expected to grow. Unfortunately, this means the likelihood of elder abuse also increases.
Seniors deserve proper care and fair treatment, but they do not always get it. Elder abuse is a very real phenomenon that harms hundreds of thousands of elderly San Fernando residents. It is also a felony, and people convicted of elder abuse can face stiffer penalties for targeting a vulnerable population.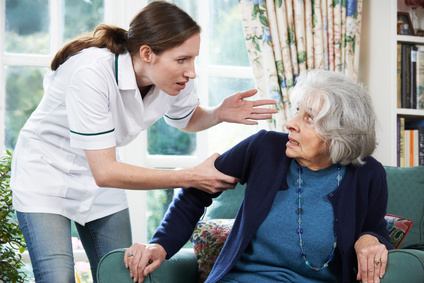 Section 368 of the California Penal Code defines elder abuse as treatment that causes physical or mental pain and suffering for an adult over the age of 65 or a dependent adult who is unable to protect themselves because of limited or diminished physical and mental abilities. In fact, any adult who is admitted as an inpatient to a 24-hour health facility like a rehabilitation center or nursing home is considered a dependent adult.
Sadly, caregivers and those who have worked to earn a senior's trust are the ones most likely to behave in an abusive manner. That abuse can take several forms, including physical abuse, mental abuse, neglect and financial abuse.
Types of Elder Abuse & Neglect
Physical Abuse
Any mistreatment that causes physical harm to a senior is considered physical abuse. While it would seem to be the most readily visible form of abuse, some seniors will hide their injuries beneath clothing or cosmetics. Other types of abuse, like sexual assault, can cause a lot of trauma without leaving physical signs that are readily visible. Warning signs of physical abuse include:
Body tenderness and pain
Injuries like bruises, welts, swellings, burns, lacerations, fractures, abrasions or sores
Withdrawal, depression, mood swings or erratic behavior
Mental Abuse
Mental abuse can include intimidation, coercion, and threats of cruelty or violence. This type of mistreatment can result in an elder feeling confused, frightened or alienated. While it can be more difficult to spot, there are signs that suggest a senior may be struggling with this issue. Indications of mental abuse include:
Depression or anxiety
Significant behavioral changes
An unwillingness to interact verbally
A fear of being touched
Neglect
Sometimes, abuse is not a matter of what is done; it is a result of what is not done. Neglect occurs when the person entrusted with the care of a vulnerable senior fails to properly assist them with basic necessities like health needs, eating and personal hygiene. In some cases, the abuser may have their own troubles. They may be struggling with drug, alcohol or anger management issues. In more extreme situations, a senior might be abducted or abandoned. Red flags that suggest a senior may be a victim of neglect include:
Depression or anxiety
Poor hygiene
Malnutrition
Health issues
Depression or withdrawal
Financial Abuse
Financial abuse can take the form of theft, fraud or a scam and can be perpetrated by a family member, friend or stranger. There are several reasons why the elderly are often targeted for financial abuse. First, elders have often accumulated significant savings over the course of their lifetimes, so they tend to have desirable assets. Secondly, many elders are more vulnerable due to their declining mental and physical abilities. In addition, many elders are reluctant to report that they have been victimized for fear of appearing silly or incapable of managing their affairs.
Examples of financial abuse include:
Burglaries or forgeries that take a senior's money, property or assets without their consent
Fraudulent recommendations that coerce seniors into accepting unfavorable loans, participating in poor investments, or transferring funds or property inappropriately
Scams conducted via the telephone, mail or the internet
Reporting Elder Abuse
When confronted with elder abuse, what should you do? Whether you are a witness or a victim, we encourage you to contact the Elder Abuse Hotline at 800-510-2020 or the Los Angeles County Sheriff at 818-898-2773. Many local law enforcement agencies have special units that investigate elder abuse.
Enlisting the Aid of a San Fernando Elder Abuse Attorney
While reporting elder abuse to the proper authorities is important and can lead to prosecution, it is not always enough to truly gain justice. In many cases, elder abuse can result in a financial burden for the senior and their family. Physical and mental abuse can require immediate and ongoing medical care, resulting in daunting medical bills. Financial abuse can strip seniors of their assets and result in the loss of a large amount of money, leaving them struggling with a financial dilemma. While filing a civil suit to secure compensation will not erase the abuse and the resulting trauma, it can provide seniors and their families with some reimbursement for the resulting financial burdens.
When proceeding with a civil suit, it is vital that you enlist the aid of an experienced San Fernando elder abuse lawyer. Your lawyer will assist you in gathering the evidence needed to prove your case and arguing your case in court. In situations involving physical abuse, mental abuse or neglect, they can help you win the compensation you deserve as well as punitive damages, court costs, and attorney's fees. When the abuse is financial in nature, an elder abuse attorney can aid you by filing a civil complaint to recover the assets or money lost due to the abuse.
At Valley Accident Lawyers, we firmly believe that elder abuse is never acceptable. If you or a loved one has been a victim of any form of elder abuse, contact us today. As trusted San Fernando elder abuse attorneys, we always work diligently on behalf of our clients to gain the maximum compensation from those responsible for their mistreatment. Contact us today to learn more about our practice and schedule a consultation to discuss your particular situation.
CONTACT US FOR A CONSULTATION
PRACTICE AREAS
If you or a loved one has been injured, you will want a top rated San Fernando Valley personal injury attorney that understands how to get the maximum compensation you deserve. Our pledge is to be your partner, and provide passionate, yet skillful legal representation needed to win your case. Contact our highly trained personal injury lawyers today for a free case evaluation.