---
What is a Rollover Crash?
Car accidents occur for a number of reasons. Some of the most devastating result from vehicle rollovers. It is important to understand what causes this type of accident and how to receive adequate compensation when you have been injured due to design flaws of your vehicle.
According to the Insurance Institute for Highway Safety, a rollover crash occurs if an automobile tips onto its side or roof during an accident. It may occur when there is side or frontal impact or when a vehicle veers off the road. In this type of crash, a driver and passengers are left vulnerable to permanent injuries. Since the initial force of the crash is sustained by the roof, everyone inside of the vehicle is at risk for suffering spinal cord or traumatic brain injuries. Many times, passengers are thrown from automobiles as well – this can result in death.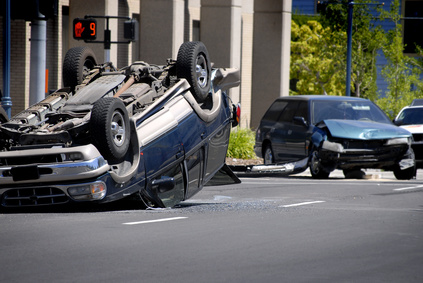 Although rollover accidents only make up 3 percent of car crashes, 33 percent of rollover accidents result in a fatality. If you or a loved one has been injured in a rollover accident, it is essential to consult with a reputable rollover accident lawyer who can help you file a claim against an automobile manufacturer or another motorist.
What Causes a Rollover Accident?
Most rollovers are related to an automobile's stability during a turn; this is influenced by the vehicle's center of gravity and distance between its right and left wheels. When an automobile has a high center of gravity and small distance between its wheels, stability is low during quick turns and changes in direction. This issue is made worse in four-wheel drive vehicles that stand tall off the ground. Many SUVs are designed with a high center of gravity. This makes maneuverability a challenge and heightens the possibility of a rollover. This type of manufacturing defect that places numerous individuals at risk for injuries or death.
In certain circumstances, safety features like electronic stability control fail, which may cause a wreck. Other times, some car manufacturers try to save money and do not provide this type of technology, which may increase the chance of an accident. For example, when roads are wet, an automobile may begin to hydroplane and slide sideways. If the vehicle strikes a curb or suddenly regains traction, a rollover accident may result. No matter the situation, all automobiles are supposed to be designed so that rollovers never happen under normal driving conditions. When a manufacturing or design defect occurs and leads to this type of accident, an innocent victim deserves fair compensation.
Vehicle Rollover Statistics in California
In California, more and more people are driving trucks and SUVs. As a result, car occupant deaths have seen a 51 percent decrease since 1975. On the other hand, pickup occupant deaths have increased 15 percent, and SUV occupant deaths are nine times higher.
Safety Improvements Have Been Made
Over the past few years, stricter policies and laws have been passed to make vehicles safer. For instance, many SUV manufacturers have installed newer technology in large vehicles to heighten stability on the road. Also, SUV designers have changed automobile profiles of numerous models so that stability is greater. Instead of producing vehicles that stand tall, more trucks and SUVs are being designed more closely to the ground and with broader bases.
Unfortunately, older SUVs are vulnerable to rollovers. This means that a number of SUVs and trucks that are driving around San Fernando are at a high risk for crashes.
Reasons to Contact Skilled Rollover Accident Attorneys
The group of rollover accident lawyers at Valley Accident Lawyers have been serving innocent victims around San Fernando for many years. On your behalf, we will file a personal injury claim so that you receive adequate compensation for the pain, suffering, and mounting bills that you have experienced after a rollover crash. Whether your accident was due to the negligence of another motorist or a manufacturing design defect, we will fight hard to bring you justice. When filing an injury claim in the San Fernando Valley, it is important to have a skilled personal injury attorney by your side. When you team with us, you increase your chances of enjoying a successful outcome for your case. To speak with a lawyer about your rollover accident, call our office today.
View the Car Accident Sitemap

CONTACT US FOR A CONSULTATION
PRACTICE AREAS
If you or a loved one has been injured, you will want a top rated San Fernando Valley personal injury attorney that understands how to get the maximum compensation you deserve. Our pledge is to be your partner, and provide passionate, yet skillful legal representation needed to win your case. Contact our highly trained personal injury lawyers today for a free case evaluation.